Rabih Kayrouz is a generous and talented designer with ateliers in Paris and Beirut. Even after Rabih was personally and professionally affected by the Beirut explosion of 2020, he remains committed to his team, his craft, and encouraging the fashion industry to lead with consciousness.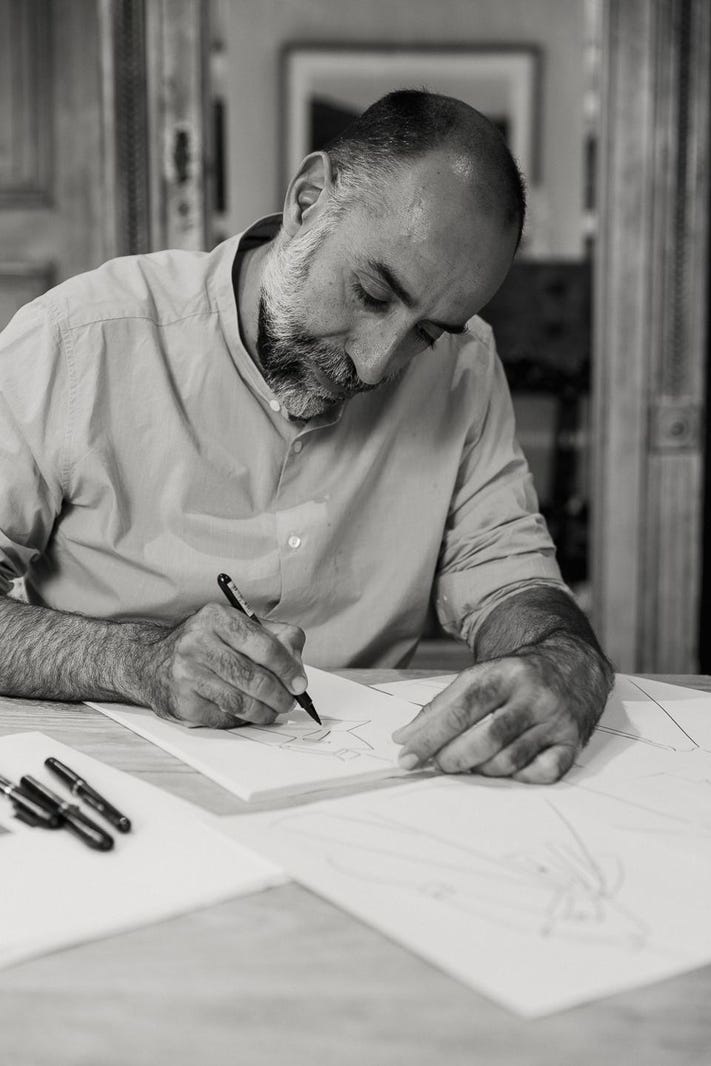 Rabih Kayrouz:
Hello Laura. I'm happy to meet somebody in fashion who is colorful and not taking it so serious. I'm happy that we finally get to meet each other in a proper way.
Laura Vinroot-Poole:
Thank you. Tell the listeners where you're from.
Rabih Kayrouz:
I was born and raised in Lebanon, then I studied in Paris. I came back to Lebanon in the mid nineties, where I started my couture house. And a few years later, 10 years later, I decided that I wanted to move back to Paris. And that was in 2009, when I came back to Paris and I established my brand in Paris as a couture and ready-to-wear brand.
Laura Vinroot-Poole:
Are you from Beirut? Will you tell a little bit about what Lebanon is like, what Beirut is like? They call it the Paris of the Middle East.
Rabih Kayrouz:
I'm lucky and cursed. I'm from this beautiful part of the world. I mean the three big religions come from there. So, you can imagine what it is like. This part of the world has been very attractive and very beautiful, glamorous and successful, bringing out the best of the people. A few years ago- because of lots of problems- this part of the world wasn't very nice. And we were struggling in Lebanon to keep this, our little country, beautiful and interesting to live in. I am what I am because of this country, because of these people. And I cherish every moment I lived there. It was a very inspiring place; we had moments where everybody was coming to Lebanon and it was a hub of design, of creativity and of even trading. 
Laura Vinroot-Poole:
Tell me about your childhood in Lebanon. Were you always creative and was it always textiles?
Rabih Kayrouz:
I was born and raised in the countryside in two small villages. I lived in a village and I used to spend a lot of my time in my grandmother's village, which was a few miles away. So I have a good sense of nature and that's what I remember from my childhood–  living in nature and sensing the nature and being in love in all this, what I call, the natural creativity. I am lucky enough to be able to witness spring, which is what I think what teaches you creativity. The real creativity, what it is, is to see how the trees will blossom, how the flowers will come out. And sensing all of this was I think the best school I ever had. When I was a really little kid, maybe two years old, I used to wrap my sister with towels. I mean it was always manipulating things with my hands and trying to build something. I always loved that. I remember at 12 years old, I was asked at school, "What would you like to do when you grow up?" and I was very sure of myself, I said, "I want to be a fashion designer." And I remember coming back home saying to my parents, "I decided at school that I want to be a fashion designer." And my father, my mom- they never said no. And that was I think my first big present that I got from my parents: that they never told me no.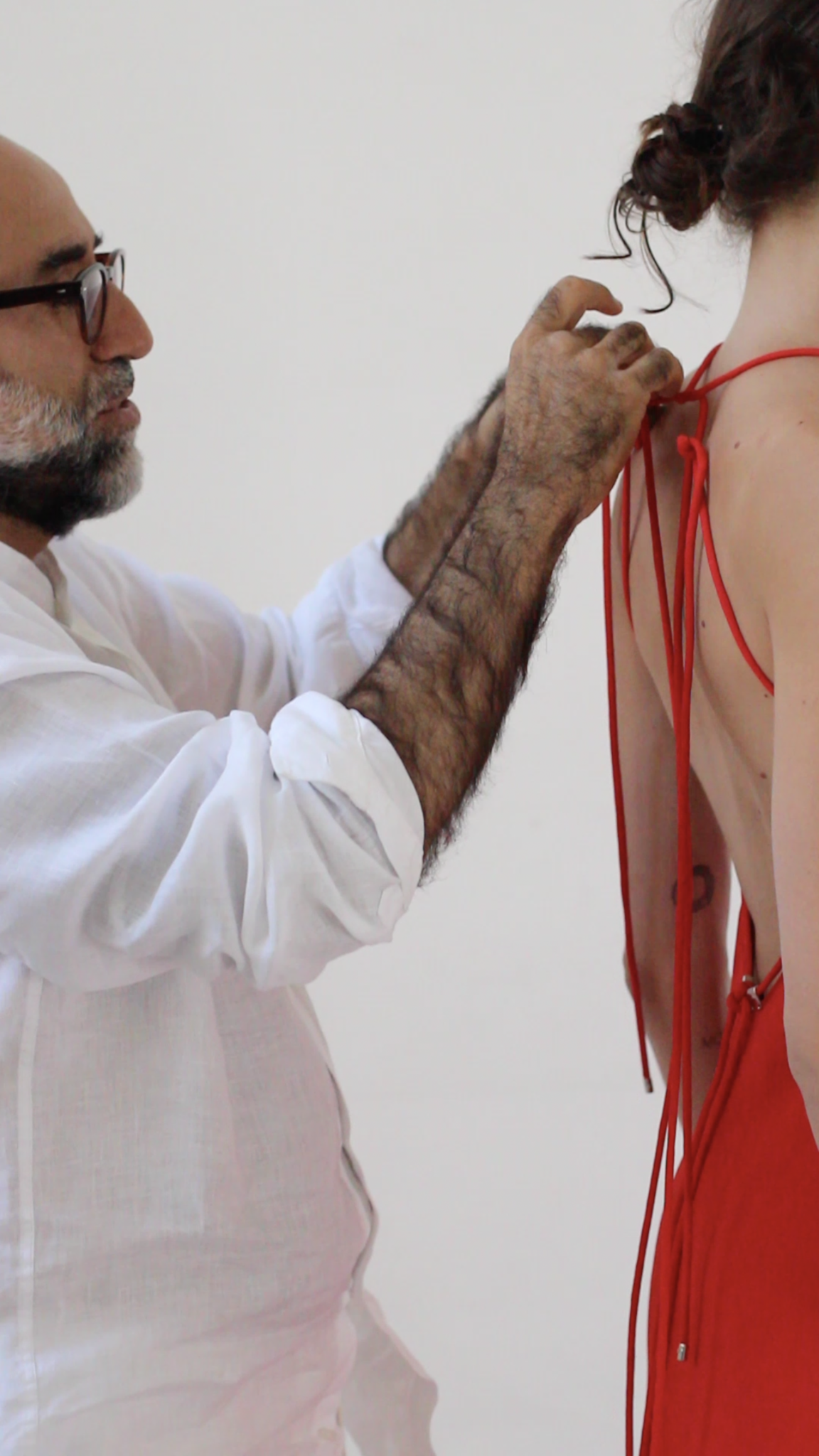 Laura Vinroot-Poole:
And when you were 16, you moved to Paris.
Rabih Kayrouz:
Yes. So I was 16, and it was still during the war in Beirut. I remember staying at home because you couldn't go to school because of the bombings. And I remember by curiosity, I went to the French Cultural Center and I just asked what I need to do to become a fashion designer. And I realized that I can start now. So, I took all the information, came to see dad and told him, "Why don't I go to Paris?" And they let me go. 
Laura Vinroot-Poole:
Did you have family there?
Rabih Kayrouz:
My father has two cousins living in Paris. So of course, thanks to them, I was able to go very easily. I was lucky enough to have beautiful training at Dior and Chanel in ready-to-wear and couture. I realized in '90 when I finished that I was able to stay in Paris. I remember having a job offer at Chanel, but I don't know. I came back to Lebanon at that time in '95 and I felt this energy and I said, "Okay, no, I think I want to stay in Lebanon." And I started by pure coincidence at the end of '97, '98 when I was introduced to a person who wanted me to make their wedding dress. I had never done that in my life. But I said yes. I sketched out a design, and she loved it. I convinced a friend of mine who studied fashion design in Lebanon and another seamstress who lived next to my parents' house to assist me. And my parents gave me the ground floor to do an atelier and I started there. And from a word of mouth, suddenly I became the young trendy designer who would do nice wedding dresses and evening gowns. And I remember at that time I wasn't sure of myself, especially technically to do sophisticated couture pieces, but I think I never tried to do something that I didn't like or I didn't know. So since the beginning, my designs were always very simple.I used to take the fabric and drape it on her and explain the design to her because it was all about draping. At that time, I remember my mom saying, "It's so funny, you're doing exactly how you used to do on your sister-"
Laura Vinroot-Poole:
With the towels.
Rabih Kayrouz:
With the towels. So, this draping and just enveloping the body in a very simple way came as the beginning and then became my style. For me, it wasn't what I was seeing, what I was raised with. Because I was really raised by natural and simple things. So, I really was spontaneously doing only simple things. And I was raised in Paris with a very simple and very elegant look because I remember when I came to Paris in the nineties, the street was so beautiful. People in the street were very stylish. And I was really impressed by that. 


When I started my ready-to-wear in 2009 in Paris, I wanted to keep this comfort in mind and to create clothes you feel good in.And at that time, I used to do fittings with people who worked with me- not on a mannequin. I used to ask them, "How do you feel?" And I used to fix the dress from inside, not from outside because I believe, with time, that when things are beautifully and perfectly done to be worn and to be comfortable, automatically they will be beautiful.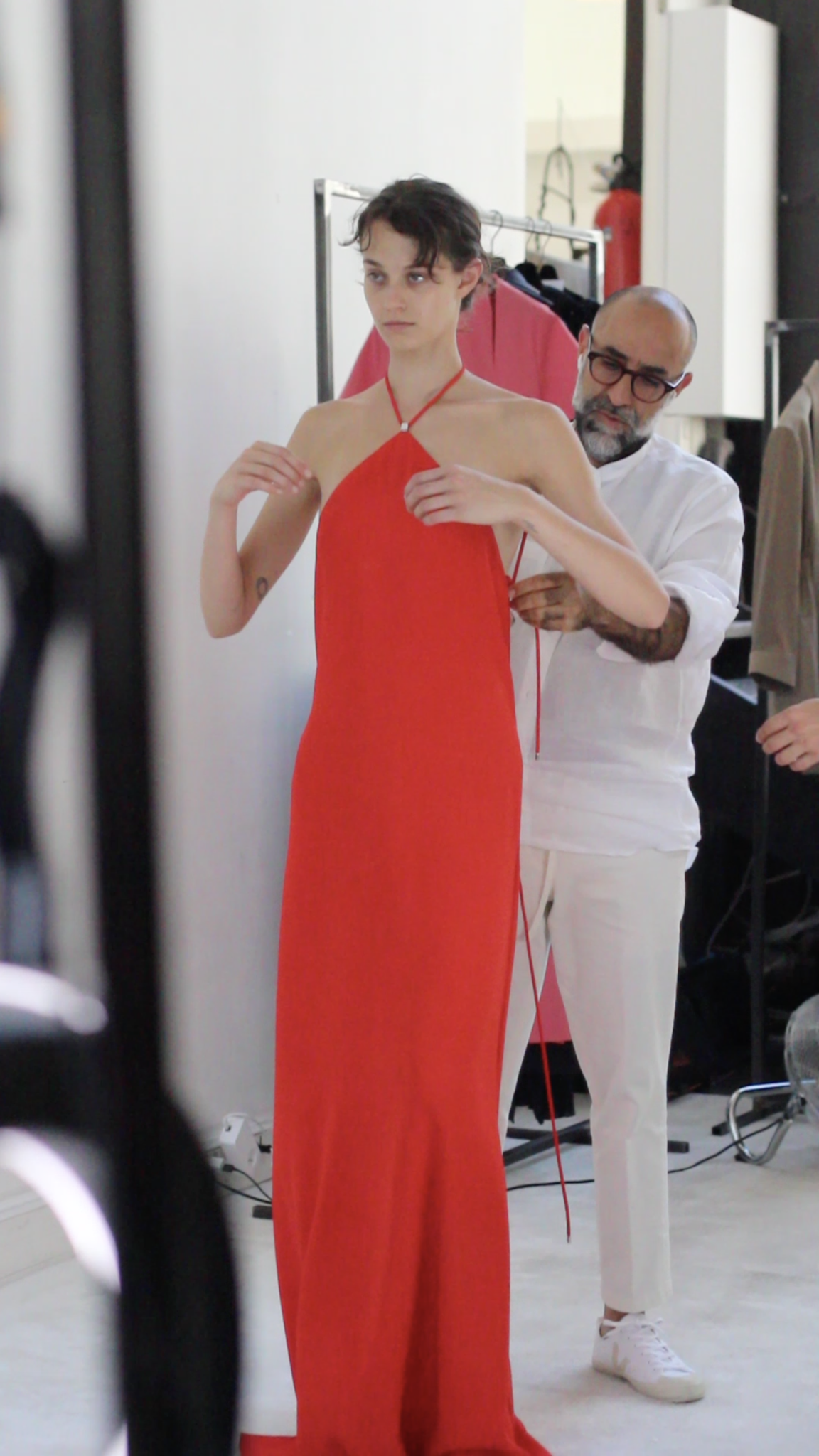 Laura Vinroot-Poole:
So you had the atelier in Lebanon and did mostly bridal. How long were you there and how long were you in the ground floor of the building your parents owned?
Rabih Kayrouz:
The ground floor in my parents' building, I was there for almost one year.  I decided to move to Beirut and start an atelier there. I remember at that time I was more comfortable to be in a home, not in just a boutique or a real atelier. I remember renting two floors in an old building that was typical of the twenties. It was almost a residential building, but one floor was for the showroom, one for the atelier, and I had another floor. And I stayed there for almost 20 years before moving to Paris. 
Meanwhile, I opened a boutique in Beirut, in a more commercial area. And to celebrate my 10 years in Paris, I moved to a beautiful place in Beirut- it's an old 19th century palace where I put the showroom and the ready-to-wear boutique. Unfortunately, it was blown up in the explosion on August 4th, 2020. I think things changed in Lebanon and the country is going through a very, very big crisis. There is another small house where I moved everything to and I was able to keep all my team in that place very safe. And we are still working from that place now in Beirut.
Laura Vinroot-Poole:
And was the business always 50/50, I mean, are half your clients in Lebanon, half in Paris, or from all over the world? Were things produced just in Paris? How did you organize this?
Rabih Kayrouz:
When I started in Paris, I developed the brand with a French manufacturer. 100% of my ready-to-wear collection was produced in Paris. And now it's more in Europe. We produce in other cities in France and other countries besides France. I kept Lebanon as an historical place because I have beautiful clientele there. I used to have a ready-to-wear section where all my collections that you would see in Paris will be brought to Beirut. 
I kept on doing wedding dresses and evening gowns on special orders. It was still done in Beirut for my clientele in Beirut. Of course from time to time, because I have a team there that knows me very well, I used to develop some designs and some patterns in Beirut for the collection in Paris. But since 2020, after the problems in Lebanon, we stopped bringing the ready-to-wear from Paris. But we had to maintain a certain activity in Lebanon to keep on being loyal to our clientele there. So, we produce in Lebanon for Lebanon. 
Laura Vinroot-Poole:
Are you open to sharing how the bombing affected you personally?
Rabih Kayrouz:
Two years have passed, and I've been able to heal from this. It was a very, very challenging and difficult moment. I had to go through a long process of recovery. 
All the things I did for 20 years were destroyed in 20 seconds. I see my city, my neighbors, the people, friends, designers; suddenly, everything was destroyed. And this is what still hurts me today, and this is not healed because the city is not. I am healed. But what we built in the country we believe in- it was all destroyed. And it's huge, I mean, I'm lucky to be in Paris, lucky to be French, lucky to be in a country where human rights are respected. But when I just look or go back to Lebanon and see how human rights are not respected, it is horrible. And this is not only an economic crisis, not only a bomb, not only an injury. It's a whole system that doesn't respect human beings. And this is not good. This is not something that you overcome.
Laura Vinroot-Poole:
How do you recover and how do you come back and design clothes?
Rabih Kayrouz:
Because I don't look at fashion people as fashion people. I look at the people who are doing their job, who are promoting an industry, who are making thousands and thousands of jobs. And this is a business; I don't mean in terms of capitalism, but it is people working. It was very hard to come back to be honest. But I think the people who helped me to come back are my partners, my team, because those people are passionately working. And I was looking at them, I was seeing them, how they are giving everything they have to make this happen, to make this house continue. So that was overwhelming and that was something that even encouraged me to stay and to work and design. And doing this job is my passion and it's my life. 
Today we have the chance that we can do any profession with lots of consciousness and lots of respect. And this is actually what we all have to do. Today, we have to keep our consciousness working. I mean, we cannot work unconsciously. This is what makes problems. When we respect what's going on, when we respect others, when we do our job with lots of integrity, any job is good and we need those jobs. We need people to keep on doing what they do.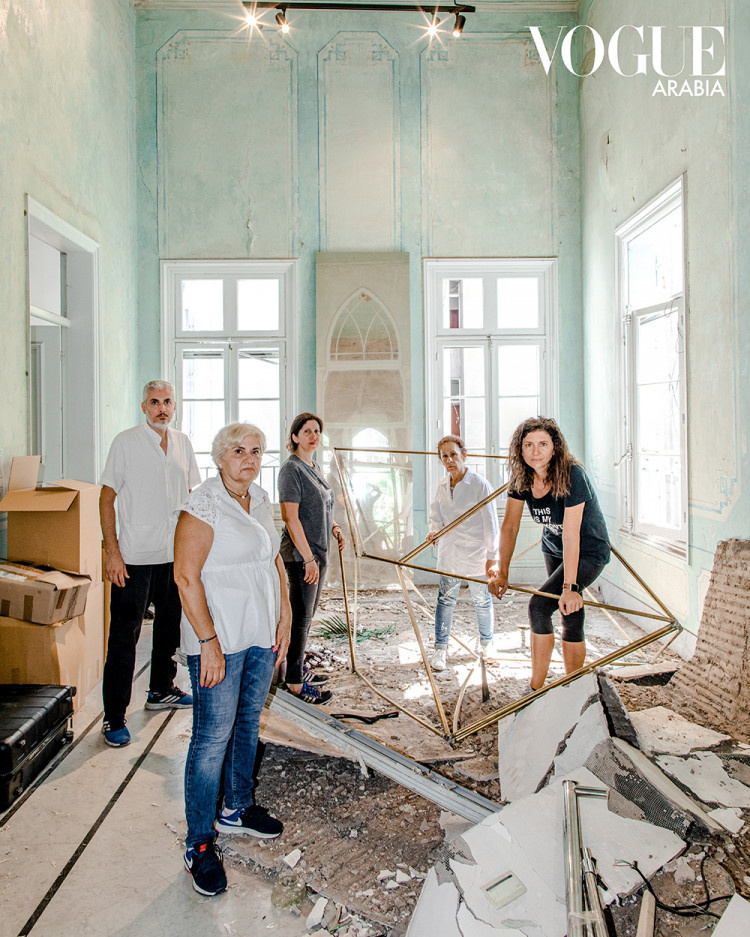 Laura Vinroot-Poole:
How do you think it changed your actual design process? Because for me, your collections since your accident are the most beautiful that I've ever seen in my 25 years in fashion. 
Rabih Kayrouz:
I stepped back and looked at what I like most: creating clothes and doing it with joy. This is what I want my clothes to be known for. I want my clothes to be known for joy and for respect in terms of design. I want to respect everything I did, everything my team did. So, this is what I've been doing to keep on respecting my DNA and doing it with new energy, new fun, introducing new things.
Laura Vinroot-Poole:
Did you know immediately that it would be successful? I mean, truly, you could see the joy and the love in every piece. I mean, did it feel different?
Rabih Kayrouz:
No, I think it's just the energy we're putting in. And I think concentrating on what you like is always bringing joy because it's satisfying. When you try to do things for marketing reasons, people-pleasing, or following a trend– they never work. You don't do them out of true love. I'm so moved to hear what you were saying, that this is the most beautiful thing you've ever seen. But I don't see it like that. I see this is the best thing I can do. So I'm happy that the best thing I can do is the best thing that can happen.
Laura Vinroot-Poole:
Do you have a favorite thing you've designed? Or do you have a favorite piece of clothing that you've worn in your life?
Rabih Kayrouz:
No, I have just a funny story. I was in school in the mid-eighties, and I remember all of us trying to look like either Madonna or George Michael. So, imagine how the school would look like. And after all those crazy looks, they asked us at school to wear only white and navy. And I remember I couldn't find anything in my wardrobe as simple as that. So, I went to school without wearing what they asked us to. And I was kicked out because I didn't have my white shirt and navy pants, or navy pullover. And it's so funny because for the last 20 years, this is all I wear.
Laura Vinroot-Poole:
I was just going to say that Rabih. I was just going to say that's what you wear.
Rabih Kayrouz:
Yes. So, I was in Paris almost 10 years ago and was asked by my school to design the new uniform. And I remember in a meeting with them, I said, "It's funny that this school is asking me this because the only time I was kicked out was the day that I didn't wear a uniform."
Laura Vinroot-Poole:
I love that. That's so good. That's a great story. 
Rabih Kayrouz:
That's my story.
Laura Vinroot-Poole:
I love it. Rabih, thank you so much.
Rabih Kayrouz:
Thank you, Laura.